Halo: Reach
Latest Articles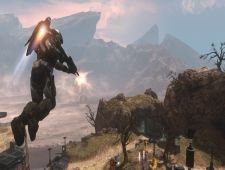 Pete Reviews Halo: Reach
On the Halo: Reach box is written: "From the beginning, you know the end".

Those of you who've played Halo 3 will know what they're going on about.

It's kinda like watching The Titanic for the first time. You're sitting there thinking "I know the ship sinks, so why am I bothering?"

You know what's going on in the Halo universe, you know how things end... so is it worth buying Reach?

Read on.

Installing To HDD Results In Faster Loading Times.
If you have the drive space, you may want to consider installing Halo: Reach to your Xbox 360, as loading some game types can go nearly two to three times as quickly.

KOTAKU Play Date
UPDATE: Videos have been added.

So last night Kotaku staff and readers posted their Xbox Live Gamertags on the site, adding each other to their friends list and played some Halo: Reach.

I joined them after playing Day of Defeat with Bisi, Gaz, Talarin, Stumpy, Shak + Chez... and quickly got a shock to my system as I realized two things:

1: The 360 is bastard when it comes to capture-cards (PS3 works fine!)
2: I haven't played a First Person Shooter using a control pad for many many months.
About this game
Halo: Reach is a first-person shooter video game, developed by Bungie and published by Microsoft Game Studios for the Xbox 360 console. Reach was released in North America, Australia, and Europe on September 14, 2010. Originally unveiled at E3 2009, Reach was preceded by a multiplayer beta available to those who purchased Halo 3: ODST, in order to gain player feedback for fixing bugs and making gameplay tweaks. Reach is the final Halo title that Bungie will be developing, as Microsoft will take over the development process entirely for all future Halo titles.

The game takes place in the year 2552, where humanity is locked in a war with the alien Covenant on the human colony of Reach weeks prior to the events of Halo: Combat Evolved. Players control Noble 6, a member of an elite supersoldier squad, during the battle for the world of Reach. As the Covenant begin their assault on the planet, the UNSC begin their heroic yet hopeless attempt to halt the brutal alien invaders.
Useful Downloads
Coming Fixtures
No events found
Game Info
We are recruiting for players.
This is an online multiplayer game.
Released: 14th September 2010
Rated at 9.50 out of 10 by us
Recent Fixtures
No events found