Pro Evolution Soccer 2010
Latest Articles

New Patch and DLC released
Konami announce the released of a new patch and downloadable content for PES10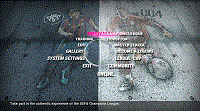 Review of Pro Evolution Soccer 2010
Talarin reviews PES2010 - a game which has massive highs and lows.

Konami fail in fixing PC issues
Talarin brings news of a massive Konami fail in PES2010 and what it means for us poor hard done by gamers.

Kotaku Review PES2010
Another review of PES2010.

Konami acknowledges Intel vs. AMD problem
Talarin brings news from the PESfan.com forums posted by members of Konami regarding the PC AMD verus. Intel online problem.
About this game
Pro Evolution Soccer 2010 (abbreviated as PES 2010 and known as World Soccer: Winning Eleven 2010 in Japan) is a football video game in the Pro Evolution Soccer series. The game was developed and published by Konami for release on Sony's PlayStation 2, PlayStation 3 and PlayStation Portable; Microsoft's Xbox 360 and Windows; Nintendo's Wii; and mobile phones.

PES 2010 was announced on 8 April 2009 and the playable demo for the PC, PS3 and Xbox 360 versions was released on 17 September 2009. The game itself was released on 23 October 2009 in Europe.

Lionel Messi is a key endorsement player for PES 2010, having featured extensively throughout the promotion and development of the game. He features on the cover alongside Fernando Torres, another endorsement player.
Useful Downloads
Coming Fixtures
No events found
Game Info
This is an online multiplayer game.
Released: 23rd October 2009
Rated at 8.00 out of 10 by us
Recent Fixtures
No events found