Starcraft 2: Wings of Liberty
Latest Articles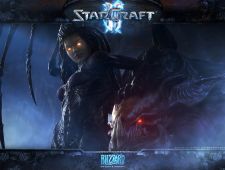 Patch 1.2.0 Now Live
StarCraft II: Wings of Liberty patch 1.2.0 is now live! This patch features adjustments to race balance, notable StarCraft II Editor improvements, the addition of Battle.net Chat Channels, and several bug fixes. Be sure to check out the full patch notes below to learn all about the latest changes. And once again, I can't be bothered to format the layout of the patch notes. ENJOY!

(Valves) Gabe Newell Infiltrates BlizzCon
Last week Blizzard held their annual BlizzCon (Blizzard Convention) for fans of their games. At the show they revealed some Starcraft 2 mods they were working on.

Another Patch Released
Patch 1.1.2 is now live. Launch StarCraft 2 to auto-download, patch-notes after the jump...

Updates Coming
Having been out in the wild for almost a month now, Blizzard has decided that changes are in order for Starcraft II, and will soon be making a number of balance tweaks for the game's first major update. Comments: 3

Free "Name Change" Coming Soon.
Not happy with the name you chose when signing up to play Starcraft 2 online? Tough shit, you should of thought of that before pressing SUBMIT you stupid... oh wait, Blizzard is here for you.
About this game
StarCraft II: Wings of Liberty is a military science fiction real-time strategy video game currently under development by Blizzard Entertainment as a sequel to the award-winning 1998 video game StarCraft. The game is being developed for concurrent release on Microsoft Windows and Mac OS X. StarCraft II is split into three installments: the base game with the subtitle Wings of Liberty, and two expansion packs, Heart of the Swarm and Legacy of the Void.

On May 3rd, 2010, publisher Activision Blizzard announced that Wings of Liberty will be released worldwide on July 27, 2010.

Set in the 26th century in a distant part of the Milky Way galaxy, the game is built around three species: the Terrans, human exiles from Earth; the Zerg, a race of insectoid genetic assimilators; and the Protoss, a species with vast psionic power. Wings of Liberty will focus on the Terrans specifically, while the expansions Heart of the Swarm and Legacy of the Void will focus on the Zerg and Protoss, respectively. The game is expected to be set four years after the events of StarCraft: Brood War, and follow the exploits of Jim Raynor as he leads an insurgent group against the autocratic Terran Dominion. The game will include old characters from the original game, as well as introduce new characters and locations to the franchise.
Useful Downloads
Coming Fixtures
No events found
Game Info
This is an online multiplayer game.
Released: 27th July 2010
Rated at 8.00 out of 10 by us
Recent Fixtures
No events found